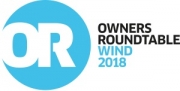 -
Your best source for knowledge and experiences within wind farm operations: Your Peers
Our roundtables are based on your and your peers top challenges. Prior to the event, you will share your specific challenge for each roundtable that you will attend. Prior to the event, you will also have a summary of all the roundtables you have chosen, listing which peers you will meet at each roundtable and the specific top challenges that they will bring to the table.  
               
During and after the event you will have: 
1) Suggested approaches to your own top challenge from all your peers around the table and discuss these with them
2) Insight into what your peers, considers to be their top challenge within the various roundtable topics
3) Insight into all suggested approaches given to your peers on their challenges
4) Summary with top three findings from all roundtables, written by each roundtable's moderator
5) Complete contact information for all your peers

Could you possibly have a better update to understand the challenges you are approaching!?
For Information