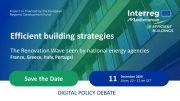 -
The Renovation Wave seen by national energy agencies
The Interreg MED Efficient Buildings Community is organizing the webinar "Efficient Buildings Strategies: The Renovation Wave seen by national energy agency". This is a policy dialogue around the role of national energy agencies in renovation strategies within the Mediterranean context and with a particular emphasis on public buildings.

The webinar will be interactive, with half of the session dedicated to Q&A, where the audience will be able to put questions or share own experiences with the representatives of national energy agencies.

This webinar is the first of a series to be organised by the Interreg MED Efficient Buildings Community.
To Register