Zytech Solar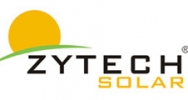 Zytech Solar
Zyt Energy Group S.L.
R. Janeiro, 12 - Pol. Ind. Centrovía
50198 La Muela
Zaragoza
Spain
976 14 18 19
976 14 18 18
Zytech Solar is a Solar Panels manufacturer with corporate headquarters in Spain and production plants in India, China and Spain. Zytech manufactures photovoltaic panels, monocrystalline and polycrystalline, mini wind turbines and tubes and bulbs with state-of-the-art LED technology and with the most demanding certification: Energy Star.