The Guide covers key topics of relevance to AD operators, including feedstocks, producing and using biogas and biomethane, digestate, planning, regulation, funding and insurance, training, and health and safety. It has been produced by over 50 contributors, a team of reviewers and external stakeholders with expertise and knowledge of the industry and contains the latest regulatory, policy and technological developments in the AD sector.
AD plants recycle organic wastes and convert purpose-grown crops into renewable heat and power, low-carbon transport fuel, and nutrient-rich biofertiliser. AD plants in the UK currently have enough capacity to power over a million homes as well as producing a range of co-benefits such as reducing greenhouse gas emissions, supporting UK farmers, decarbonising large vehicles, and recovering resources from wastes.
The Guide will be a living document, updated online periodically in line with developments in the AD industry.
"This is a vital industry guide produced by the AD industry for the AD industry that provides both new and existing developers all the information required to enable them to make sound technical, commercial and legal choices in relation to developing a new AD facility" said ADBA Chief Executive Charlotte Morton. "Whether you have a basic understanding or in-depth technical knowledge of the AD industry, this handbook is designed as a hands-on guide to help you with every stage of your project. The Guide promotes good practice and ultimately aids in the delivery of successful AD projects, building on this mature, thriving industry that contributes so much in terms of decarbonisation, energy and food security, and restoring the UK's soils. Importantly for an industry that has relevance all across the globe, the Guide is also transferrable to other potential AD developers outside of the UK."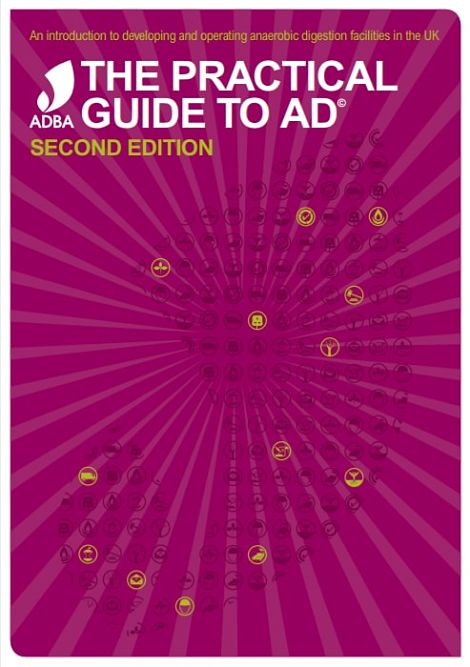 Les Gornall, Bioenergy Process Consultant at Capita Projen, added that the first edition of the ADBA Practical Guide to AD contributed to building an industry in the UK with the scale of a nuclear power station and that although educating and training 500 expert biogas plant operators has not been easy, the Practical Guide was their textbook. The second edition is timely and will become as important as its predecessor. It is essential reading for developers, operators and supporters of an industry that is focussed on converting waste into energy and organic fertiliser and making a significant local and international contribution to the removal of greenhouse gases and global warming.
There has been much development in the industry in recent years with regard to legislation, health and safety, planning permission, feedstock and optimisation as well as the focus changing from electricity production at 40 percent efficiency to gas-to-grid at over 90 percent efficiency.
ADBA members can download the Guide for free and it is also available for purchase by non-members.
For additional information: