The poll by YouGov was commissioned by the 'Cut Carbon Not Forests' campaign, which is calling on the UK Government to withdraw subsidies for large scale biomass, such as the coal-to-biomass plants at Drax in Yorkshire, operated by the Drax Group. Currently, the government gives more than £2 million per day in subsidies to these power stations, and other large scale plants, that burn biomass in order to generate renewable electricity.
As reported by REM last Friday (24th July), the YouGov poll found that fewer than one in four British citizens (23 percent) think electricity generated by burning wood biomass from forests should be classified as 'renewable energy', while 55 percent oppose continued Government subsidies for wood biomass energy.
Cut Carbon Not Forests, the campaign that commissioned the YouGov poll, is coordinated by environmental groups Biofuelwatch, Natural Resources Defense Council (NRDC), Southern Environmental Law Centre and Dogwood Alliance.
These groups claim that the biomass used by plants such as Drax, much of which is imported from overseas, particularly the US, is having a detrimental impact on American old-growth forests, leading to adverse impacts on habitats and wildlife. Respondents to the YouGov poll indicated significant support for the protection of these forests, and the wildlife they support, with 85 percent worried about adverse impacts if trees in these forests are being cut down to produce biomass for electricity generation.
However, Benedict McAleenan, an Adviser to the Renewable Energy Association (REA), said that YouGov poll was poorly designed and that other, more independent, surveys actually show public support for biomass.
Other criticisms of biomass are that it may, particularly at large-scale, release more carbon pollution than coal and that it increases air pollution.
As REM noted in last week's news article, there has been a long-running debate over this issue for several years, in which some of the research being made available does seem to indicate some legitimacy with regard to these claims. However, the biomass industry believes that burning forest wood as fuel in power stations is 'renewable' because the carbon dioxide (CO2) it emits is reabsorbed by new trees.
Small-scale biomass plants, often at farm-scale, rely more often on locally-produced wood products and woody waste from construction projects and other activities, as well as other non-wood feedstock such as energy crops, agricultural waste, food waste and non-wood industrial waste. However, there is an ongoing debate about these plants also. 
Mr McAleenan, an Adviser to the Renewable Energy Association (REA), told REM that the campaign groups focus on the notion of waiting many years for forests to reabsorb carbon, but that this notion simply isn't how it works. Instead, when the right regulations are in place, as is the case for the UK and the EU, biomass can only be used for energy if the forest is experiencing net growth, meaning that any emissions are immediately recaptured by ongoing growth at the landscape level.
Mr McAleenan added that this is not, as the poll claims, "CO2 reabsorbed by new trees" – it's reabsorption immediately by the ongoing growth of the forest and that this is fundamentally different to the claims made by the campaigners. The poll therefore misrepresents what is actually going on and ignores the fact that supplier forests are actually flourishing.
"It's not surprising that a survey reflects the views of the activists who designed and paid for it" said McAleenan. "The results are further undermined by the campaigners' decision not to publish the full results, including their questions. Impartial, independent polling carried out by the government in their Public Attitudes Tracker shows that there is consistent support of over two-thirds for biomass*, and poorly-designed polls like this one only serve to advance a partisan agenda, not the interests of the climate. The reality is that biomass has played a key role in the UK's successful decarbonisation of our electricity system, which has seen emissions drop by 60 percent. The forests that supply biomass to the UK have more wood growing in them than 10 years ago, not less, which is a success story of sustainable forestry. Biomass also sits at the core of the UK's plans for Net Zero because of its role in Bioenergy with Carbon Capture and Storage (BECCS), which the Committee on Climate Change says is required to reach Net Zero by 2050."
*According to the March 2019 Public Attitudes Tracker (Wave 29), conducted by the Department of Business, Energy and Industrial Strategy (BEIS), "levels of support for biomass energy remained stable at 68 percent" (as of March 2019):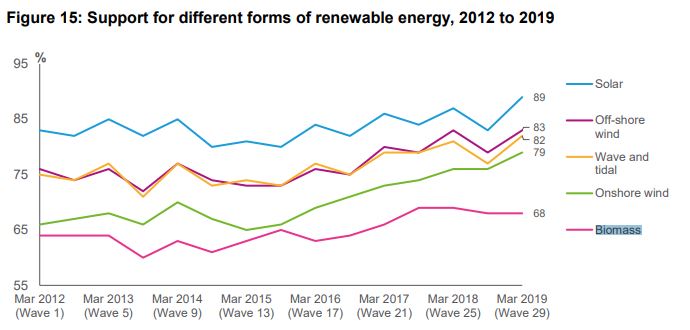 For additional information:
Biomass UK (part of the UK Renewable Energy Association – REA)