Eddie Morgan has always had the entrepreneurial spirit. As a teenager, he collected aluminum cans to sell to a local recycler. As a college student, he sold everything from baseball caps to costume jewelry door-to-door.
Even during his years as a successful engineer at Bell South in New Orleans, the itch led him to open a pair of computer stores on the side.
Then Hurricane Katrina changed the trajectory of his life. The epic 2005 storm caused the failure of several levees protecting the historic city on the banks of the Mississippi River and flood waters destroyed Morgan's businesses and forced he and his family to relocate to North Texas.
Once safely settled in a new home in Fort Worth, Texas, Morgan again began to ponder opportunities that would challenge his technical mettle.
It was then that he found himself drawn to the electric vehicle market. "It is a young industry, one in which there is a lot of room for a new company to grow," he said during a recent interview with Renewable Energy Magazine. "At the same time, I saw it as an area where I could use my technical expertise to help other people go green."
Morgan also recognized that while electric vehicles were gaining in popularity, the lack of a real charging infrastructure was a barrier to widespread acceptance.
In 2013, he began seriously thinking about entering the charger market and discovered his adopted hometown offered a wealth of resources to help him turn his dream into a business.
His first stop was TMAC, a public-private consultancy hosted by a number of Texas Organizations including the University of Texas at Arlington. There, he not only got help in designing his chargers, he also found a local manufacturer: APS Industrial Services.
Morgan's next step was to found Revitalize Charging Solutions and set up shop at the Tech Fort Worth incubator, which helped him better visualize how to scale up his new business.
In 2014, Revitalize Charging Solutions rolled out a charging station App for Android phones and tablets, and in 2016, a pilot test of a public charger with the city of Fort Worth was so successful that the company was soon inking agreements to install its charging stations outside commercial establishments around the city.
But the biggest advance for Revitalize Charging Solutions to date came in December, when it launched its Rev+ Dual Home Charger, which Morgan says is the only dual home charger currently on the market that allows the EV driver to charge up to two cars at a time on a single electric circuit, and includes connectivity with wiki, Bluetooth and web browser.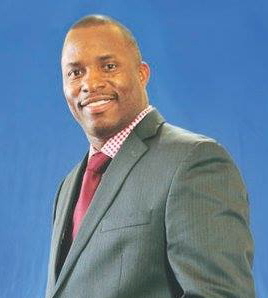 Edward Morgan (Facebook)
You recently introduced the new dual home charger for electric vehicles. What inspired you to go in that direction?
Well, when we started thinking about designing the dual home charger, we were thinking about what the EV landscape is going to be like over the next two to five years.
With the reduction in the cost of electric vehicles, you're starting to see more of gravitation to purchasing those vehicles. And along with that, when you think of the traditional American two-car home, you are starting to see the early adopters of electric vehicles starting to buy a second one for their families.
As we continued to look at this and got into the actual design and building of the charger, we then began to try to answer the question, what's the value proposition for the user?
So that's when we began integrating features like real-time status and real-time cost analysis and being able to charge automatically at off-peak times for electricity use... in short, letting the charger itself do all that work.
In the end, we feel we've built a very robust system to enable the consumer to do all of that right at home. As it stands now, 95 percent of charging is still occurring at the vehicle owner's home. We wanted this to be the next-generation charger for the home.
You mentioned you were looking at a two-to-five year time frame. That begs the question, where do things stand in the US in terms of the current EV market?
Currently, there are just over 700,000 electric vehicles on the road in the US...and it is projected that by 2020 there will be over 1 million. So the growth is averaging between 30 percent and 40 percent year over year, and we believe that over the next several years, you're going to actually see that number go up.
What have been the barriers to electric vehicle adoption in the US? Has it been, as some have suggested, that consumers believe the infrastructure to support these vehicles is lacking?
It's been two things. First, it was the cost of the vehicles. The average consumer just couldn't afford to spend $60,000 or $70,000 and up for a Tesla, for instance. And then, as you say, there was a lack of public charging infrastructure on the highways ... so drivers really were wondering "Will I make it to my destination and back?"
Now what you've started to see is the cost of the battery coming down, and that's resulted in the price of the average electric vehicle coming down. Today you can go out and actually purchase an electric vehicle for $35,000 -- and the Nissan Leaf is even more inexpensive.
So the cost of ownership has come down, and as that has happened, auto manufacturers and other private businesses have been investing in the infrastructure to reduce the "range anxiety" that consumers were experiencing.
As a result, consumers are feeling more comfortable with electric cars.
Prior to starting this company, you were an engineer and technologist. What inspired you to go into the renewable energy field?
We started this company in 2013 and what excited us about it was we saw it as an opportunity to be part of something great. We could be part of creating this worldwide infrastructure and helping people, here at home and around the world go green.
Along with that, we love technology; the whole electric vehicle movement. We wanted to be part of that right away. We jumped in and we just went to work.
The thing that keeps us going is feeling that we are helping people and at the same time helping an innovative industry moving forward.
Technology incubators are very popular now. They're often the first stop for the aspiring entrepreneur in tech and software and apps, etc. In your case, you got involved with a tech incubator in Fort Worth, Texas. How valuable was that in helping kick start your business?
Tech Forth Worth is a technology incubator/accelerator here in Texas, and when we first came up with the concept for the company, we thought we had it all together. We had a business plan. We knew where we were going. We had a sense of where the industry was headed.
But until we got into the incubator...well, I'll put it this way: We realized that we didn't know as much as we thought we did. We understood the technical end of what we wanted to do, but we weren't as grounded in what we needed to know to keep a business -- any business -- grounded and moving forward.
Tech Fort Forth was instrumental in helping us mold and shape the business so that the business model we envisioned made sense and how we engaged the business as a whole made sense -- and they helped with everything down to initiating the first prototype.
Being part of that incubator helped us home in on a lot of the things that we hadn't considered before starting the company.
Like what?
Well, for instance...we knew we wanted to build chargers. But we didn't realize building a charger is one thing, but then how do you scale up your operation and take it to market? You might have a fantastic idea, but how do you make money from it? What's the revenue model? And then, how do you continue to grow it? What verticals are you going to enter?
As engineers, we didn't think about "business." What we thought about was the product. The incubator gave us time -- and the opportunity -- to get a firmer grasp on the business side of what we wanted to do.
At what point, as a new business, did you start to engage the industry as a whole? Was there a point where you said, "We've got to talk to the vehicle manufacturers" or "We've got to start reaching out to municipalities"?
When we first started, we didn't talk to the vehicle manufacturers. We were highly involved with a group here called TMAC. They're located at the University of Arlington. So they came in from the manufacturing perspective and really helped us with the design of the unit and, most importantly, put us together with local industrial companies that could manufacture the individual parts and the enclosure that made this charger a reality.
We were really fortunate to have the University of Arlington very close to us. They, meaning the association, have a truly robust engineering group at the university that we could visit with frequently during the development phase of the product. As a result, we now manufacture the charger right here in Arlington. In other words, these connections allowed us to do a lot of things locally, and that made the process easier for us.
At some point at this stage, you rolled out a mobile App, right?
We actually launched the mobile app before we had a charger. It was intended to help the EV driver find a charging station, whether it was ours or competitors. We just wanted to make sure people could get from point A to point B safely. Now today, our mobile charger is integrating the residential piece as well...you can control everything on your home charger directly from the app, so we're excited about that.
Now, I've read that one of the first things you did was install a charger prototype outside a local restaurant. Can you tell me about that?
When we first started out we did a pilot with the City of Fort Worth. We did that for six months, and that pilot was then extended for another year.
One of the challenges, anytime you're putting a charger in for the first time, is retrofitting the location you're going to put that in. That can be very expensive. So when we came out with our first charger, part of what we were thinking was we needed to create a charger that allowed businesses to potentially get a fast return on investment.
So one thing we did in all of our commercial chargers was integrate an 18 1/2-inch screen on which we could show digital advertising...and in return, the host partner, the establishment hosting the charger, would provide the power...we would provide the maintenance,  and we would share 10 percent of the advertising revenue with them. It was a win-win situation and really helped businesses get the return on their investment back much faster. That helped eliminate a traditional barrier to charger adoption. If you talk to most companies that want to deploy a charger, it's always the infrastructure cost that creates a barrier.
Okay, so now you're rolling out this dual home charger. First of all, the financial model must be very different. But secondly, aren't you now competing with the commercial side of the business?
Like I said earlier, today, 95 percent of EV charging happens at home. So we're not taking away from one part of the business to grow another. The other thing is, the business model for the two products is completely different. The home charger is sold directly to the consumers. They use it while they are at home. They typically charge their vehicles overnight.
Whereas the public charger is used primarily be the person who's traveling, who is between destinations and they can charge while they are out. So I don't think having the home charger out there will divert any potential revenue from the commercial charger. They're just two different things in how they are used.
And if you talk to typical EV drivers today, the overwhelming majority of them charge their cars at home and still use commercial chargers.
How long does it take to charge up?
It depends on the vehicle and it depends on the charger. Our home charger is a Level 2, 50 amp charger for which the industry standard is a full charge in two-and-a-half to six hours.
People already have home chargers. It's a competitive market. How is your charger an advance?
We're really excited about this charger. First of all, it's the first dual home charger to enter the market. You can charge two cars simultaneously. When you look at the chargers that are on the market today, they are all single connection chargers in one box. So essentially, that means that you cannot charge more than one car at a time -- unless you buy another charger.
Some of my competitors have something called a load-sharing where you can go from one charger to another and share the power between two chargers on one circuit.
We said, let's keep it simple. Let's make it affordable. So we made one unit with two connectors on it they can charge simultaneously. That can give you energy cost analysis. You can connect to it via Bluetooth or wifi or your traditional web browser…and you can set up all kinds of custom charging regimes...and it's almost the cost of a single connection charger today. This unit is only $699. A single connection charger can range from $599 to $1000, so we believe you're going to get a very good charger at a very good cost ... that can also provide you with future enhancements.
For Information Revitalize Charging Solutions