It all started in a little office near Madrid's Chamartín railway station. If we were in California, some would say, in a "garage". But this is not the case. Because the garage, or something like it, is the industrial unit which they now occupy. A space spilling over with materials and testing equipment used to keep improving the product. DTBird® is busting a gut with continual R & D & i, which has allowed them to extend operational zones and capacities of the bird monitoring and protection system since its inception in 2005. DTBat® is already operational, protecting bats.

Parents of the brainchild are three Spanish biologists, Agustín Rioperez, Javier Díaz and Marcos Puente. Since the first two founded Liquen Consultoría Ambiental in 2001, they have reaped vast experience in the evaluation and monitoring of bird mortality at wind farms. "It was frustrating to see how at wind farms, economic resources were dedicated to merely confirming the death of birds, without improving scientific knowledge of the causes of mortality and doing nothing to prevent it," they explain. That was how the idea arose of developing a system which was capable of detecting birds close to turbines, which emits warning signals when a bird is approaching with a risk of collision.

A system even capable of automatically stopping the turbines, when necessary. Thus the DTBird® project was conceived. "For it to hatch, the technical collaboration of Molinos del Ebro (Grupo Samca) was vital, which to this day continues to provide product data banks before selling to the public, at a wind farm in Zaragoza", they recall. "The collaboration of the Fondo Amigos del Buitre (Friends of the Vulture Fund, or FAB), was also essential for testing the detection of birds of prey, as was the Centre for the Recovery of Wild Animals Grefa (Centro de Recuperación de Animales Silvestres Grefa), for testing the effects of various types of sound."

Over the years, Agustin, Javier and Marcos have covered thousands of kilometres presenting their product to companies in the sector and environmental bodies worldwide. In fact, to confirm some of the details of this article, Agustin sent me information from the 14th World Wind Energy Conference & Exhibition taking place in Jerusalem at the end of October, where he was participating in two presentations. Javier reciprocated from Germany, where they are installing DTBird® on an offshore platform.

"We're at all the fairs and events concerned with wind energy, to provide information on the features of the DTBird® system and the constant improvements being incorporated", they explain. It is a fact that all wind farms have to pass a declaration of environmental impact, including possible effects on flighted fauna, specifically birds and bats. It is no less true to say that in Spain, a pioneer country in wind energy development, things have not always been done with due rigorous control, a fact recognised within the sector itself. "Now it is not easy to put things right after the event, especially if you consider that in comparison to doing nothing (zero cost), any investment seems high, even when you are talking about around 1% of the cost of the project and 1% of the annual turnover. It would be another matter if the environmental agencies were to exercise their mandate to protect a public asset, i.e. fauna, by enforcing a reduction in mortality rates of birds at black spots, (specifically located and known wind turbines), where year after year protected birds die. And then, if mortality rates at these specific turbines were not reduced to acceptable levels, to force their closure. Then the relatively low cost of the DTBird® or DTBat® systems would really become apparent", says Agustin.

The DTBird® Detection and Collision Control Module started operating at a wind turbine in March 2009, the Collision Avoidance Module in January 2010 and the Stop Control Module in March 2011. To date, DTBird® has 58 units installed at 16 terrestrial wind farms and marine wind projects in 9 different countries: France, Greece, Italy, Norway, Poland, Spain, Sweden, Switzerland and the United States. 12 further units will be installed before the end of the year in France and Germany (the tenth country). Also, two DTBat® units are already functioning in Poland and Switzerland. Journalists from all over the world come to visit them, both to reduce collisions with wind turbines and to install systems in meteorological towers in the initial phases of a wind energy project. However, they do not have a single commercial wind turbine installation in Spain.

How DTBird ® works
DTBird® is an automatic system, developed to monitor birds in the early stages of a wind energy project or to reduce bird mortality at operating wind farms, with the same functionality in both terrestrial and marine wind farms. There are four modules:

• Detection: detects the presence of birds automatically and in real time. An analysis is made on the basis of high resolution images. Bird detection is carried out using high definition cameras covering an area of 360° around the turbine and with a detection range of up to 600 m.
• Collision Control:  takes video and sound recordings of flights with a high collision risk.
• Collision Avoidance: emits warning for birds in potential risk of collision, or discouraging sounds to birds birds in the vicinity of the rotating blades, reducing the time spent in this area and rotor crossings.
• Stop Control: automatically stops and reactivates wind turbines according to bird collision risk, measured in real time.

There is also a specific system for bats, called DTBat®, which works in a similar way. This has two modules:
• Detection: automatic, real time recognition of ultrasound, carried out by a minimum of two detectors.
• Stop Control: automatically stops and reactivates wind turbines according to bat collision risk, measured in real time.

Data Analysis Platform
This platform provides online access to video and audio recordings of the flights of birds and bats, as well as environmental data and the operating parameters of the wind turbines. It has tools for analysis and data export and enables automatic reporting, with charts and graphs reflecting the activity of birds and bats, and the actions taken by all DTBird® and DTBat® modules. This represents genuine transparency in environmental information, such as is already required in Castilla y León (pioneer in this area) and a growing number of countries including France, Greece and Poland. "Smart and Bird Transparent Wind Power".
DTBird ® pilot system installation in a 3 MW wind turbine at CalandaWind (Switzerland)

 

Detection module: records the activity of birds

4.1 flights/day, with video and audio recordings of each flight (total: 274 flights detected, with a total of 423 birds).

 

 

Collision Control Module: collisions recorded/bodies found

O collisions, according to audio and video detection (allowing the elimination of 100% of flight collisions). No bodies found in observation searches at the base of the turbine.

 

Parameters for the evaluation of collision risk reduction:

 

Sound off 

Sound emitted

Flights with collision risk (in 30 days standard operation).

 

8 flights

0 flights

Sudden changes in flight pattern, avoiding approximation to the rotor

 

0/14 flights

8/13 flights

Total sudden changes in flight pattern, avoiding approximation to the rotor

15 (47% after activating sound)

 

38 (82% after activating sound)

 

Average flight duration at the height of the area swept by rotor blades in motion

17.8 seconds

5.4 seconds
Biological basis of Collision Avoidance Module
There are biological underpinnings to the use of sounds for reduction of the bird collision risk with wind turbines. "On the one hand," explains Javier, "wind turbines do not attract birds. Their flight close to turbines may be because they do not see them (whether because of specific characteristics of bird vision, or because their attention is focused in other factors in the environment), or because they are not aware of the danger. On the other hand, birds use sound for communications and so can hear certain frequencies. That's why the warning sounds emitted by DTBird® draw their attention to the danger (of moving blades).

"When birds approach the area around the rotor, discouraging sounds are used in the area around the moving blades. This reduces the number and length of flights in danger zones and flights crossing the rotor blades, and so reduces the risk of collision".

DTBird® has obtained clear evidence demonstrating just how effective the Collision Avoidance Module is for preventing collision risks. They have been experimenting at a pilot plant in CalandaWind farm in Switzerland, turning the sound on and off. For a week the speakers sounded, during the following week they did not, and so on in turn. The results are shown in the previous table.

"Tests at CalandaWind demonstrate that warning and discouraging sounds emitted by DTBird® from the turbines reduce the risk of flight collisions (with the moving blades) in the risk area. Thus, there is less probability of bird collisions. The same results have been produced at another experimental facility in Sweden and are ready for publication... You see, we had to go to Norway, Switzerland and Sweden to demonstrate the efficacy of DTBird®, while there are numerous turbines in Spain where they could be tested and the real and worrying mortality of endangered species could be reduced. Do we really want to come last in the development and promotion of environmental technologies, when we are probably the best?" Marcos Puente asks.
An example of the set up of the Stop Control Module for eagles, with detection distances of 600 m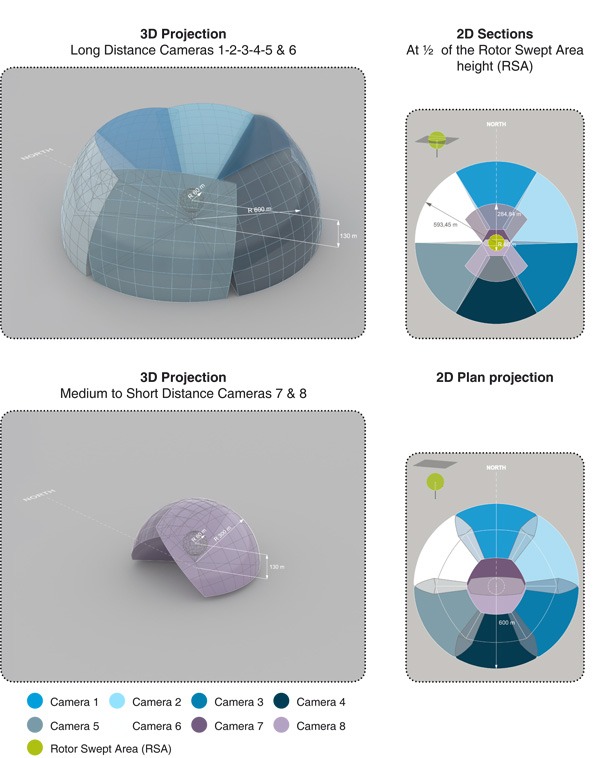 Less than 0.05 collisions per wind turbine and year
By examining bird collisions registered by the Collision Control Module from January 2013 to June 2015, the manufacturers of DTBird® have calculated the probability of bird collisions for wind turbines equipped with their system. The data has been collected from more than 40 DTBird® units distributed over many wind turbines in France, Greece, Italy, Poland, Spain, Sweden, Switzerland and the United States. In these monitoring facilities, the monitoring radius around the turbine varied from 25 to 250 meters, depending on the size of the birds (from swifts to vultures).

"The probability of collision for a bird detected within the observation area is less than 0.1 per 1,000. In other words, less than one collision per 10,000 birds." Using a different parameter evaluation for wind turbines installed with DTBird®, the collision control module has registered less than 0.05 collisions per wind turbine per year, between about 10 and over 100 times lower than any of the statistics on collisions throughout the literature. So, the positive effect of the system is obvious," says Agustin. However, improvements on the system are continuing, and a new configuration has been implemented for the Stop module, designed specifically for large terrestrial or marine wind turbines, and those with a high risk for birds collisions. With this configuration, detection is extended to up to 600 meters, including the entire rotor area.

An increasing number of environmental administrations from a variety of countries are interested in the system, which, as well as reducing collision risk to birds, allows direct and independent access to videos and data. "But in Spain we seem to be invisible, at least for the present," laments Javier. As if nobody had noticed yet that a small Spanish company has developed a technological tool, which has already been tested, widespread used in Europe, in demand worldwide, and which makes wind energy an even better energy source than it already is.