The global rush to zero emissions offers the world two choices for decarbonisation, and among passenger vehicles it is clear the choice has already been made in favour of Battery Electric Vehicles. However, despite many objecting voices and some obstacles remaining, the cards dealt to the hydrogen fuel cell will mean that its introduction into heavy duty transport will be easily achieved.
The report argues that it is a certainty that the inflation of oil prices, due to a shortfall in Russian oil will be temporary and shortly too much oil will soon be chasing too few customers and the price of oil will crash. The report's authors predict this will happen as soon as 2027 – as most new vehicles begin to ignore oil.
For hydrogen the start of its journey is in public transport (trains and buses), heavy duty trucking, shipping, and aviation, because each needs to find a route net zero emissions.
Scaling up from passenger vehicles, the larger a vehicle gets – and the more time it is required for uninterrupted operation – the more hydrogen holds an advantage. Citroen, Peugeot, and Vauxhall are all set to release fuel cell van models in 2022, with the largest penetration coming from Japan, Korea, and then Europe. For light commercial vehicles (LCVs), 13.1 percent of sales will include a fuel cell by 2035, rising to 29.7 percent by 2050. A total of 38.7 million fuel cell LCVs will be on the road at this time - about 22 percent of the global total - but this market will still be dominated by battery electric with some 88.9 million EV models in operation, accounting for almost 65 percent of sales and by 2050 and already making up 50 percent of the total global fleet. In total, the number of ICE LCVs will fall from 134 million in 2021 to just 49 million by 2050.
Scaling batteries to provide sufficient power and range to these larger vehicles poses significant logistical challenges, and in some cases is outright unfeasible. Emerging hydrogen and e-fuel technologies – providing already accepted refueling times and range capabilities – will be needed but will need support and subsidy in their early route to market, and they will need to establish a broader infrastructure for their wide-spread adoption.
Between the two processes of decarbonisation 8,000 GWh of electricity will be required globally each year purely by heavy duty trucks by 2050 (see graph). And while battery electric trucks will have a two or three years start, hydrogen capacity will overtake this swiftly at the top end of the market.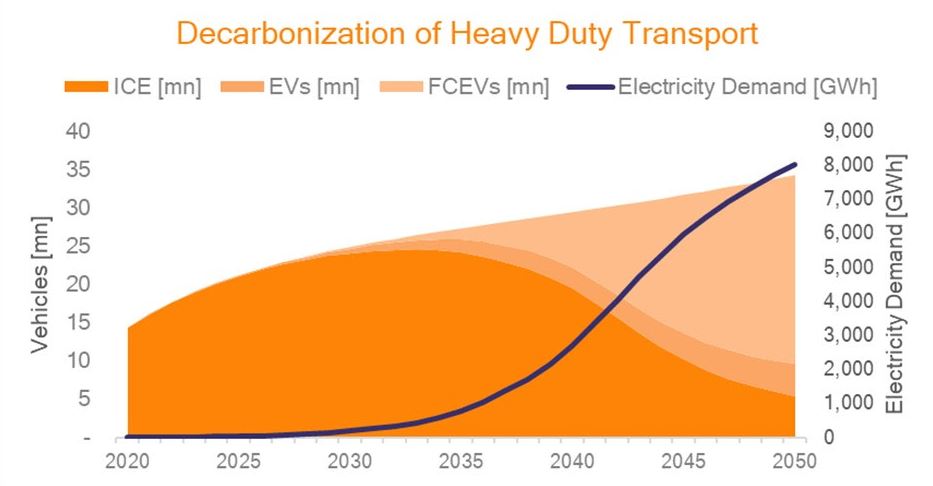 With unit lifetimes typically in the region of 15 to 25 years, the total number of ICE vehicles (which run on oil) on the roads will fall from a peak of 1.18 billion in 2023 to under 400 million by 2050. Meanwhile, the number of battery electric vehicles will have risen from 16.2 million at the end of 2021 to 1.6 billion.
Even in the passenger car space there will be some buyers who need high utilization rates with swift refills and these are more likely to pick hydrogen over battery electric. This will be mostly seen within cities where a hydrogen infrastructure has started to develop, with taxis offering a key opportunity in this market. Rethink Energy expects to see FCEVs account for 3.1 percent of on-road vehicles in 2050, rising from 40,000 vehicles in use today to 54.2 million. Nothing much compared to BEVs, but worthy of note.
"The light commercial vehicle space will be a battlefield where the two styles of zero emissions – battery and hydrogen – will meet" said Harry Morgan, Rethink Energy's Hydrogen Analyst and lead author of the report, "but still it is likely to show a preference towards battery-electric, with a similar market structure to the passenger vehicle segment."
It is only where there is a need for high utilisation rates, and short and infrequent refuelling, where hydrogen can take a significantly role.
"These technologies will be accelerated into the market rapidly over the coming decade, with global transport emissions set to fall to 35 percent of 2022 levels by 2050" added Mr Morgan.
Relying on electricity, for the charging of batteries, production of hydrogen, and production of e-fuels, the sectors demand for power will rise 13-fold between now and 2035, and 60-fold by 2050. Global demand across ALL of the transport sectors will hit 13,095 TWh – more than half of today's current electricity demand across all sectors. Demand for green hydrogen will hit 72.5 million tons by 2050.
In the seas and skies, aviation and shipping – which account for 2 percent of global emissions each – will see only see batteries used in niche scenarios. The difficulty of storing hydrogen, the world's lightest gas, will see ammonia used as a hydrogen-carrier in the shipping sector, at least before liquid hydrogen technologies are developed for storage at minus 250 degrees Celsius.
Liquid hydrogen will also be watched closely by the aviation industry, as it develops its own decarbonisation methods, with synthesised fuels using hydrogen and biofuels offering an alternative route through 2035, after which it will be constrained by crop competition for food for a growing global population.
For additional information: