Commercial-scale intelligent energy storage company Stem is developing an aggregated fleet of customer-sited energy storage in Texas.  The company is to partner with Austin Energy which will offer its commercial customer's energy storage options to help Stem reduce energy costs while simultaneously providing a reliable energy storage resource for the Austin Energy grid.  The project is one phase of a larger Austin Energy grant from the US Department of Energy's (DOE) Sustainable and Holistic Integration of Energy Storage and Solar Photovoltaics (SHINES) programme. The programme's goal is to reduce the cost of electricity from combined solar and storage projects to below $0.14/kWh.
It is the eighth utility contract for Stem, giving the company an opportunity to prove how its innovative aggregated platform can integrate solar and energy storage to increase grid performance and reliability and enable higher penetrations of solar PV.  Austin Energy is using the Stem partnership to test new customer offerings that result in sustainable aggregation models.
REM talked to Stem CEO John Carrington to find out more.
Can you tell me more about the two companies involved in this partnership?
Stem is headquartered in Millbrae, California and was founded in 2009, with projects in operation since 2012, and backed by the industry's largest project finance pool at $350 million.  Our mission is to build and operate the largest digitally-connected energy storage network for our customers. Our world-class analytics optimise the value of customer's energy assets and facilitate their participation in energy markets, yielding economic and societal benefits while decarbonising the grid.  Stem is funded by a consortium of leading investors including Angeleno Group, Iberdrola (Inversiones Financieras Perseo), GE Ventures, Constellation Technology Ventures, Total Energy Ventures, Mitsui & Co. LTD., RWE Supply & Trading, and Mithril Capital Management.
Austin Energy serves more than 450,000 customer accounts and more than 1 million residents in Greater Austin. The utility's mission — to safely deliver clean, affordable and reliable energy along with excellent customer service — has guided Austin Energy in powering the community and supporting the region's growth since 1895.
Austin Energy has established a goal of 55 percent renewable resources by 2025.  To do this cost effectively for its ratepayers, Austin Energy is adding energy storage to increase grid resiliency and manage the variability/impact on their distribution grid associated with high penetration of renewables. Stem will help Austin Energy integrate Distributed Energy Resources (DERs) into their distribution grid and solve grid problems (e.g., ramping, targeted load reduction) with behind-the-meter resources. The deployment provides Austin Energy with a fast-responding and dispatchable resource in a portion of their grid with high PV penetration.  The aggregated resource may also help Austin Energy integrate with and reduce costs associated with ERCOT participation.   The SHINES project is the first step toward achieving Austin's renewable and energy storage targets, with broader deployment to follow. 
Moreover, Austin Energy is adding EVs, PV, and energy storage as part of a broader suite of new customer offerings and benefits.  With this network, Austin Energy is testing Stem's third-party aggregated model to reduce electricity costs for host customers and better understand the benefit to their customers.  Austin Energy and the system host customers receive access to Stem's PowerScope software with its real-time data and energy consumption visualisation tools.
Can you tell me more about the larger Austin Energy grant programme?
The goal of the US Department of Energy's (DOE) Sustainable and Holistic Integration of Energy Storage and Solar Photovoltaics (SHINES) programme is to drive an all-in cost of solar plus storage energy below 14 cents/kWh.  We are proving with this relationship our platform ability to aggregate these sites and deliver to the grid cost-effectively.  The core goal is to lower total cost for Austin Energy's customers. 
Stem also participates in a SHINES project in Hawaii in collaboration with Hawaiian Electric, where Stem's software-driven storage control portal will be one of the first distributed aggregator tools to provide real-time, distributed storage fleet management and control capability that will be integrated with utility energy and distribution management tools for 24/7 visibility and control of grid response resources.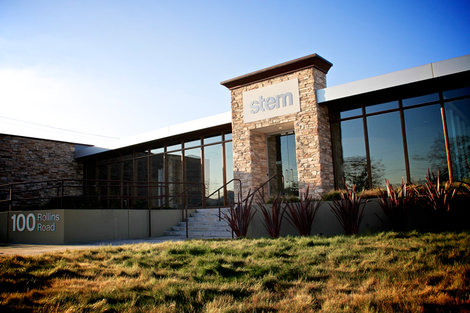 Tell me more about the Stem energy storage technology
Stem is technology-agnostic, relying on batteries from Tier 1 suppliers like Tesla, Panasonic, LG Chem, and Samsung.   Stem's proprietary grid-service software reduces businesses' energy costs by reducing their peak demand and providing them with real-time and predictive data and energy management visualisation tools.  For the utility, Stem's intelligent software creates and manages a digital energy storage network delivering a dynamic, network-enabled "virtual power plant," where local, modular capacity, and resources can be instantly applied to address any locational issue.  These dynamic, network-enabled VPPs can include islanding microgrids that operate independently of the electric grid when required to maintain service amid larger grid disturbances.
What is the average cost of electricity from combined solar and storage at the moment and how does that affect the take-up of such projects?
For standalone storage, well documented studies show the cost of batteries are declining steeply in the past few years and projected to continue.  The key to declining system costs is long-term policy certainty, which creates the economies of scale in the market to reduce operational and soft costs. We believe this network is the first aggregation of customer-sited energy storage in Texas.  As Texas utilities and regulators look to the Austin Energy experience, they may opt to set larger, longer policies that create a Texas market big enough to drive down costs for both standalone and solar-storage systems.
What kind of increase in take-up of combined solar and storage are you expecting from this project?
It's premature to comment on the take-up of co-sited solar-plus-storage in Austin Energy's territory, since that depends on the site characteristics, the customer's tariffs and economics, and other factors.  Where a business has on-site solar photovoltaics (PV) systems, Stem's software and analytics tools will automatically manage those customers' use of grid-supplied electricity against their solar production. This fleet allows Austin Energy to work with their customers to identify optimal uses of customer-sited energy storage to reduce their energy bills.
What kind of savings are you expecting from this for customers?
Stem's software-driven energy storage "as a service" lowers the business' energy costs by reducing their peak demand and providing them with visualisation tools and supporting real-time energy management. Stem's proprietary software rapidly responds to spikes in electricity use, drawing on stored power to automatically reduce demand charge costs without requiring operational changes or manual input from the host customer.  Customers pay a monthly subscription fee and can save up to two to three times what they pay for the service.   
About Stem:
Stem is publicly active in California, Hawaii, New York, and Texas.  The company believes that other Texas utilities will be looking at how aggregated, software-driven energy storage can be a new offering to their customers and a way to manage distributed energy resources, and consequently it is excited to be the first to execute that in the Lone Star State.
For additional information: