As the whole subject of planning applications for and the siting of large renewable energy project becomes increasingly the focus of widespread public attention and, to a certain extent, controversy, so project developers need to become ever more careful about the decisions they take regarding the siting of potential projects with regard to visual and environmental impact, practical suitability and various other considerations. This is where mapping of potential sites can assist project development, thereby helping to ensure a successful outcome to the planning process.
The maps have to be constructed at predefined scales and in prescribed formats. Given that many companies submit numerous applications per month, the mapping also has to be fast and cost-effective. Emapsite created a web platform upon which such maps can be generated effectively therefore reducing the time taken to compile and submit a planning application, sometimes by half.
Such digital mapping solutions will increasingly play a vital role in the IT support provided to renewable energy project development. REM therefore decided to talk to Liz Scott, emapsite's Data Engineering Manager, to find out more.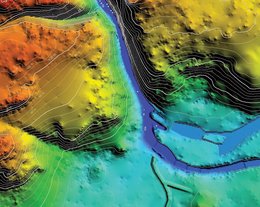 Briefly, what would you say the main function or functions of mapping are with regards to a renewable energy project?
Mapping data underpins the whole lifecycle of a renewable energy project from initial siting decisions, through the creation of zones of visual interference (ZVIs) and viewshed analyses, to interaction with the public at enquiries and planning transport logistics.  Thereafter mapping might be used for site maintenance, contractor appointment and in land use consultations particularly in relation to forestry.
During what stage or stages is mapping used for a typical renewable energy project? At particular points or throughout?
Mapping is used throughout a typical renewable energy project, although the particular type required is likely to change as a project develops. During an initial site-finding exercise, contextual smaller scale mapping around 1:50,000 may be used with appropriate terrain data and wind speed statistics to analyse a site's potential. This can be complemented by mapping showing environmental designations (SSSIs, SPAs etc), proximity to residential areas and other constraints. As the project moves into the planning phase, the area local to the proposed site may require more detailed mapping and terrain data to be used during the creation of ZVIs and viewshed analyses along with more detailed environmental and ecological survey data. Address data for the notification of local residents becomes important at this stage. At public consultation phase it may be necessary to demonstrate the impact of a proposed site using 3d fly-throughs including aerial photography. At construction planning phase, detailed road network data such as the OS MasterMap Integrated Transport Network Layer may be required for the routing of construction traffic, in particular the transport of large turbine blades on long vehicles. At all stages of a project, the contractors involved will inform the public of proposals by means of clear site details and other graphics, all of which will require mapping data as their base ingredient.
Who can access mapping information for windfarms? Is this kind of information publicly available?
Yes this data can be accessed from various sources who continually collate data as windfarms go through different stages of planning, deployment and operation. Data on both offshore and onshore windfarms are available for anyone to purchase online.
Is there a degree of risk to birdlife as some critics claim? How important is mapping as a means of resolving this issue?
Birds can be adversely affected by wind farms as a result of displacement due to the loss of habitat, disturbance both during construction and operation, and collision with moving turbine blades, with some large slow-flying species such as raptors being particularly susceptible. Therefore, it is important to assess the bird populations that occur at a proposed wind farm site to determine if there will be a significant impact, and mapping plays a vital role in this process. Sensitivity map data, produced by organisations such as the RSPB, identify geographic locations where wind farms should generally be avoided due to the presence of sensitive bird populations. Surveys are carried out at proposed sites throughout the year, including vantage point surveys to monitor the flight heights and durations of species considered to be prone to collision with turbine blades. Survey report maps will show abundance of breeding and non-breeding birds within the site as well as flight routes, giving an overall picture of site suitability. Contextual mapping or imagery is vital as a backdrop to survey mapping for communicating the results.
To what degree do local authorities dealing with wind farm applications need 'better resourcing' and how important is mapping in that in comparison with other resources?
When considering new renewable energy schemes, local authorities need to use much of the same mapping for verification purposes as each other.  Under both the Public Sector Mapping Agreement and One Scotland Mapping Agreement they are licensed already to use Ordnance Survey data. emapsite's Contractor Link service offers them a helping hand by freeing up the processing overhead when commercial organisations working for them request Ordnance Survey data which they are entitled to use. Contractor Link allows the commercial contractor to request data from the local authority who need only 'sign off' the request online and the processing is handled for them.
How does the situation with mapping in the UK compare to that on the European continent and elsewhere?
We are spoilt in the UK with both Ordnance Survey of Great Britain and Land and Property Services of Northern Ireland offering current comprehensive coverage at all scales likely to be required for project planning, plus many off-the-shelf options for aerial photography and terrain data as well as marine data that can be licensed for digital use. Countries in mainland Europe vary enormously.  Some national mapping agencies offer data to download or purchase easily online while others struggle with disparate surveys, incomplete coverage and multiple coordinate systems. Meanwhile, aerial imagery can be expensive to purchase for anything other than large areas and terrain data higher than 10m resolution can be difficult to source or simply not available. Beyond Europe, there is often a total lack of recent mapping even at scales of 1:50,000 and below. In some cases it is most appropriate for customers to purchase from a variety of sources to create their own bespoke dataset to suit their requirements.
What is emapsite offering to the industry that hasn't been available before?
Emapsite has been a pioneer in serving the renewable energy industry with not only a comprehensive range of mapping and data products for both marine and terrestrial data but also the expertise to assist with data for overseas projects. We tailor maps to an organisation's actual area of interest rather than forcing the licensing of unnecessary data. More recently, emapsite has been offering a range of web services which can coexist with a customer's own GIS server. This allows GIS managers to concentrate on the data they've already been managing and outsource the management of whatever else they don't have time to process and deliver to their own users. 
How can the service offered by emapsite help to reduce costs and save time?
Data management issues can be a substantial overhead when running large projects especially across joint ventures and where subcontractors are involved. emapsite's services handle all the licence management allowing organisations to ensure they are appropriately licensed.  Users can access the same up-to-date base data in one place - emapsite's cloud data store - saving on administration, processing time and disk storage. There are also no cloud storage fees.
Which projects are being supported by emapsite so far?
emapsite has been and continues to be instrumental in providing mapping data for renewable energy projects, both onshore and offshore, including those going through consultation and planning, those under construction and those already in operation. Onshore projects of note include Blacklaw by Scottish Power Renewables, Beinneun by Ridgewind, Bradwell on Sea by RWE npower Renewables, Camster by E.ON UK Renewables, Carraig Gheal by Greenpower, and Dunmaglass by RES. Offshore developments include Greater Gabbard Wind Farm by SSE and RWE Renewables, Kentish Flats 2 by Vattenfall and Walney from DONG Energy / SSE Renewables.
How do you see hosted mapping services developing in the future?
Organisations will increasingly turn to data specialists and cloud services as they find themselves overwhelmed with the sheer volume of geospatial data they need to manage and serve. As the benefits of consuming data from cloud sources become more widely recognised the delivery of mapping via web services will increase. This will allow a greater degree of data sharing and therefore cost sharing across joint ventures all working together on the same project. Demand for more granular datasets will grow as data use becomes more sophisticated and end users start to seek out specific content to address each task. Data IP owners will be prompted to develop more componentised pricing and licensing models. This will lead to new "pick-n-mix" products and services tailored to an organisation's actual requirements, combining Open Data with premium content and the organisation's own user generated content. Ongoing licensing using transactional style charging analogous to mobile phone contracts will become commonplace, allowing the purchase of additional data and services in the same way mobile users purchase apps. Mobile access from any type of device to a project's data in the cloud will become standard.
Further information: