CDC Scotland Ltd are attempting to make the offshore wind industry a lot safer and cost effective by introducing two new vessels, now coming to market – the Heron and the Chameleon.
The offshore wind sector, whether it chooses to acknowledge the fact or not, currently has a major problem on its hands with regard to the construction of new offshore wind projects and the servicing and maintenance of those already in operation.  The weak link in the chain is the range of purpose-built specialist vessels currently being used for construction, maintenance and transport of personnel.  Put simply, these vessels are part of a construction and support system that is simply not up to the job.
The vessels used currently are extremely expensive and inefficient, but it looks as if the sector will continue to use them for the foreseeable future.  Although they are usually purpose built, the fact that they are still, in essence, ships not platforms means they incorporate number of serious limitations by default – and that is precisely the problem.  They are not suitable for major maintenance tasks because they simply do not have the space available for large workshop facilities, for large lifting gear, or for personnel accommodation.  They are also, along with the vessels being used to transport people, very vulnerable to adverse weather conditions that can severely restrict or even curtail their deployment.  Furthermore, they are also very expensive to build.
If you look at the transportation vessels alone, you can immediately see the problem.  Initially, offshore projects were developed fairly close to shore, meaning that journey times from dock to destination was only 30-45 minutes at most.  However, in order to take advantage of more powerful wind resources, many projects are now being developed at greater distances offshore, such that journey times are now around two to three hours, and are therefore more dependent on weather conditions for longer periods of time.  If it is just too dangerous to travel, the vessel stays at home, and that means lost productivity.  In decent weather, you are talking about four to six hours of technician time spent travelling, rather than on the job, therefore half the productive day is lost.  However, if the weather turns rough en route, requiring a return to shore, then a whole day is lost.  Helicopters are even more vulnerable to adverse weather, so this isn't an option either.
Then there is fuel.  These vessels use substantial amounts of it, especially when a vessel is travelling at maximum speed in order to reduce journey times.  This again adds to the cost.  To give some idea of the scale involved, it has been estimated that around 380 vessels will be needed just to service the North Sea projects being planned, this includes 'bump and jump' boats, but could be significantly reduced with the wider use of the CDC Heron.
John Davies, MD at CDC, argues that if they are not resolved quickly, these problems will incur heavy costs on the industry, if not already.  If you add up the costs for chartering the vessels in the first place, the fuel, downtime, the restricted ability of certain vessels to be used for maintenance, the costs inevitably mount up.  This in turn impacts on consumer energy bills thereby exacerbating the fear that offshore wind is too expensive to be considered a realistic alternative to conventional fossil fuel, energy sources.  Clearly, if the sector is to avoid a negative public perception and achieve grid parity, something has to change.
Unfortunately, Mr Davies fears the offshore wind sector seems to believe these problems will simply disappear.  So what can be done?  Davies argues that what is needed are vessels that are able to deliver economic and safe solutions.
The 'Mothership' concept is a step in the right direction, but even this is far from ideal.  Motherships often act as mobile 'safe havens' for smaller maintenance craft which means that even with mooring and/or dynamic positioning (DP), they can still only operate in seas of particular wave heights.  The rolling and pitching motion means that personnel are grounded and unproductive, and, they are unable to access any part of the turbine tower other than the transition point, with the use of, if fitted, a motion compensated telescopic gangway.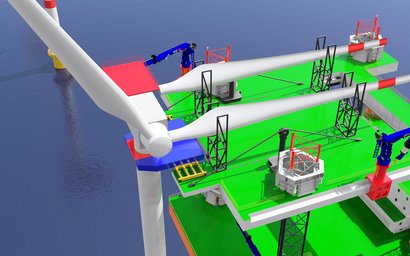 Fortunately, the offshore wind industry can learn a lot from Oil & Gas, precisely because of the years of experience that has been acquired in that sector.  If this opportunity can be grasped, it could be of enormous benefit – but is the sector is currently considering this and, if so, to what extent?  There could also be collaboration between the Wind and O&G sectors – when a CDC Heron is not being used in the Wind sector it can be utilised by the O&G or vice versa.
CDC has developed patented designs for 'concept' vessels based on jack-ups and platforms.  These solutions have been developed by engineers and technicians with long years of experience in the wider offshore energy sector.  They cost considerably less to build than the construction vessels currently being used by the offshore wind industry, and they are far more efficient.  They do not need to be tested since they are based on existing principles that are already very well proven in the O&G sector and they can be utilised directly in the construction phase of a wind project and for far longer.  These vessels could potentially have a direct role in major construction tasks such as installing towers and fitting or changing blades etc.  They can also carry a large amount of equipment, such as spare blades, towers and nacelles as well as being able to provide extensive maintenance facilities, in the form of a fully-equipped repair workshop, and accommodation for personnel.
The CDC Chameleon and CDC Heron are based on a self-propelled, multi-purpose jack-up design developed from an already established and proven concept used within the O&G sector.  This design can be used for both construction and for accommodating personnel in single cabin accommodation.  Both use DP for approach to the turbine tower and until the vessel is pinned to the seabed by the legs after which propulsion is dispensed with and jacking up commences.  They are equipped with electric propulsion systems based on dual fuel systems, Diesel/LNG, cleaner and more environmentally friendly, thus eliminating the need for towing by tugs to the project area and indeed within it.  The vessels can work in-field for upwards of 300 days per year and can achieve far more in terms of construction and maintenance than any of the vessels used by the offshore wind industry presently.  It is also far greener than any current vessels either in operation or in development.
The decks can accommodate any equipment configuration and have the ability to perform a 'quick change' role, enabling it to be used for both O&G and offshore wind sectors.  They are also equipped with extensive workshop facilities, enabling in-field servicing and maintenance.
These vessels are much cheaper than existing wind industry purpose-built construction vessels and are also cheaper to operate.  They are far more efficient when it comes to performing tasks in both offshore energy sectors and can also accomplish tasks quicker than current vessels that are employed.
In essence, the approach taken by CDC can considerably improve current speeds of construction, which at present is hampered by insufficient availability of construction vessels, particularly given the range of problems described earlier.  The CDC vessels can install turbine nacelles and blades more rapidly than current vessels and could therefore free up other vessels for tower installation.  With the Heron also being able to provide accommodation for up to 150 personnel, the current need to hire passenger ferries and small cruise liners (Floatels) can be eliminated.
See also our interview with John G Davies here.
For additional information: