The survey asked over 600 members of the public why they don't use solar panels. Over 50 percent of those responding cited cost as the main reason for not utilising solar, despite the fact that domestic solar power systems have significantly fallen in price over the last five years. Aesthetics and availability were other reasons for lack of solar panel use, while 7 percent of respondents questioned the effectiveness of solar, thereby revealing a need for further education on this topic.
"Over recent years the price of having solar PV panels installed in your home has fallen dramatically" said Duncan McCombie, CEO of YES Energy Solutions. "For us, this is a great development in the industry as providing your home with clean, environmentally friendly energy is now much more cost-effective and within the reach of many more householders."
The survey asked 629 people, "Why don't you use solar panels at home?"

55 percent of respondents said cost was the main reason they did not have solar panels
18 percent said the aesthetics of solar panels would put them off
16 percent said unavailability of solar panels in their area was a barrier
7 percent chose 'functionality' (examples of such answers being along the lines of "I don't think they work")
Cost was the main factor, despite the fact that the cost of solar panels is rapidly decreasing. Since 2011, the average cost of a domestic solar PV system has fallen by between 70 percent and 80 percent. In April 2016, an article in The Guardian reported that the cost of domestic solar systems has fallen by around 80 percent over the past five years, demonstrating that owners of such systems can still obtain a good return on their investment, both through savings on household energy bills and through the Government's Feed-in Tariff (FiT). The average price for a 1 kilowatt to 4 kilowatt array in 2010 was around £15,000, compared to just £6,000 in 2017. The results of the survey suggest that many people overestimate the cost of solar panels.  
Furthermore, a study by ING Direct in 2012 found that solar panel systems can significantly add to the value of a home.
"Adding solar panels to your home is not just a great way to reduce bills and help the environment saving around 1.5 tons of CO2 per year, it's also an opportunity to maximise your property's worth" added Duncan McCombie. "You can embrace a low carbon lifestyle whist increasing the retail value of your home".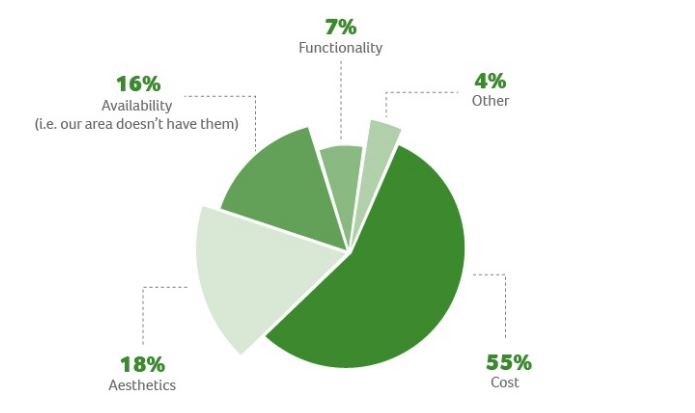 According to YES Energy Solutions, citing an article on the subject in Solar Industry Magazine, although the price for solar has fallen, the upfront cost is still considered to be expensive by some people, especially given that people rarely consider the savings they could achieve from installing solar. Furthermore, many people remain unsure of how to calculate a return on investment (ROI). The stark fact of the matter is that people aren't educated enough about solar, or about energy in general. Consequently, many people remain unaware of how solar can save money on energy bills, how much they actually cost and how the cost has changed over the years. A lack of general discussion around these issues only adds to the problem, despite the fact that the subject is well covered online.
Many people are also unaware of how the Government's Feed-in Tariff actually works. Again, the Government could improve the situation through further discussion, both in the ordinary day-to-day business of Government and through public education campaigns on television and radio.
YES Energy Solutions is a Community Interest Company committed to helping people and organisations save energy and money. With no shareholders to satisfy, the company invests its profits into the communities it supports – be it to establish sustainable energy projects, boost local employment in the energy saving sector, or offer sustainable solutions to the most vulnerable in society.
For additional information:
YES Energy Solutions survey: "The main barriers to solar PV"