Rapid expansion of the offshore wind industry, especially in the UK, means the associated supply chain is playing catch up; striving to streamline supply under pressure from wind farm developers to cut lead times and reduce costs. In this article, we look at how steep the supply chain's learning curve is and how it can overcome the hurdles faced.
The offshore wind energy industry is set for a boom over the next ten to twenty years. The UK's round 3 of offshore development saw the crown estate award licenses to various wind power firms to develop wind farms at several sites around the UK; with the ambitious target of achieving 32GW of power (roughly a quarter of UK demand) by the year 2020. It is a rapid expansion plan that is echoed throughout Europe as governments strive to reach renewable energy targets.
In most industries knowledge and experience lead to reduced costs and streamlined supply chains. This is not necessarily to be expected when it comes to the offshore wind industry. It is in such an early stage of development, and as each project goes further out to sea and encounters fresh problems, so the learning curve continues. Best practice is not within reach for the offshore wind industry as yet, so it is still very much a project-by-project experience.
Procurement
Overcoming the hurdles in the supply chain and procuring the raw materials, skills, transportation and logistics is a significant challenge for the companies tasked with realising these large projects. Many such projects will be financed by banks or private investment, and there is a need to demonstrate reduced risk to investors. As new large players enter the market, such as the USA and China, the demand for finite resources like steel will increase, and there is a great deal of uncertainty over the cost and supply of such materials. The spike in demand for materials to produce turbines, blades, towers and foundations is matched by the demand for new manufacturing facilities, ports and harbours to deal with the increased traffic, and suitable vessels to transport, install and service the wind farms. Installation Vessels
One of the most pressing issues is the lack of vessels currently available for installation of wind turbines. EWEA (European Wind Energy Association) estimates that there is a need for twelve dedicated offshore wind turbine installation vessels, to achieve its own targets of 40GW in Europe by 2020. Currently the only two vessels able to install turbines at depths greater than 30 metres are the MPI resolution and the Kraken.
MPI Adventure, Source: mpi-offshore.com
MPI is a world leader in the construction of Wind Turbine Installation Vessels (WTIV) and in March this year took delivery of its new vessel, the MPI Adventure in Qidong, China. The vessel is specifically designed to transport, lift and install wind turbines and foundations. Upon arrival in European waters, the Adventure will assist with installation of the London Array wind farm project off the Thames estuary. She has a 1,000 tonne capacity main crane, as well as a 50 tonne capacity auxiliary crane. She can operate at depths of up to 40 metres, and can jack with anything up to 6,000 tonnes of cargo. Additionally there is accommodation onboard for 112 people.
There are several deepwater installation vessels in design or construction that will further the capacity to install the amount of turbines required to meet wind energy targets. One such project is Gaoh Offshore's Deepwater Installer 1 vessel (pictured below). Designed to operate year round, the vessel can carry and install up to 16 turbines, based on the Siemens 3.6MW turbine design. She will be able to operate in depths of up to 50 metres using a jack up system, and has been designed to minimise the cost of turbine installation. She will incorporate a 1,600 tonne SWL round leg crane for loading and installation, and a 1,000 tonne SWL floating crane operational capability. In terms of storage, she will boast 5.500 square metres of cargo area, with a main deck loading of 10 tonne per square metre. There will be accommodation for 120 people onboard.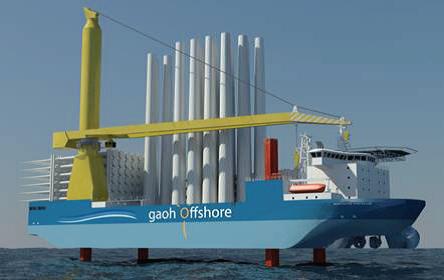 Gaoh Deepwater Installer 1, Source: Gaoh-offshore.com
Several energy utility companies have indicated that a limited number of suppliers and competition with the oil and gas industries for vessels means that the procurement of suitable installation vessels is one of the biggest challenges in the wind energy industry today. This shortage must be resolved over the next few years if targets for 2020 are to be reached.
The signs are good in this particular sector, as around £860 million was invested into installation vessels in 2010. By comparison, one area of concern is the HVDC/Cable connection sector, which saw just £36 million of investment during last year.
Cable suppliers
One cable supplier, JDR cables, opened a base in Hartlepool, UK, in 2009; and JDR has been awarded the contract to supply cables to the London Array project. The wind farm will have 177 turbines and when complete will be the largest offshore wind farm in the world. The project awarded to JDR involves the design, engineering and manufacture of some 200km of 3 phase 70mm 33kV subsea array cables, including hang off and termination systems. These cables will link the individual turbine generators to the offshore substations. JDR cables have experience in the field, having supplied the cabling for the Beatrice offshore wind farm project, and will aim to be one of the foremost suppliers to the European market for offshore wind farms over the coming years.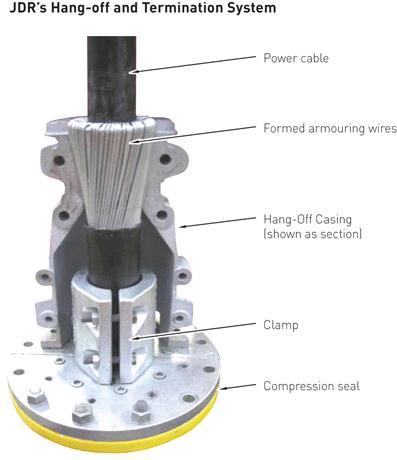 JDR hang off and termination system for use on the London Array project, Source: jdrcables.com
Another company looking to enter this market is the Korean company LS cable, who recently implemented a dedicated submarine cable factory to try and gain a share of the European offshore market. Already supplying cables to energy and telecommunications companies, it also has experience of manufacturing cables designed to be used offshore, which would be suitable for use with wind farms.
Skills and workforce
With such rapid expansion expected in the wind energy industry, a shortage of skills could prove to be a big stumbling block in development. Thousands of jobs will be created across Europe over the next ten years, from engineers and project managers, to mariners and welders.
One possible solution to the lack of qualified workers is for suppliers to follow the example set by the port of Bremerhaven in Germany. When redeveloping the harbour to supply the wind turbine industry, manufacturers and local authorities entered into partnership with local universities to develop training programs for the local population to ensure a skilled workforce was available. The Fachhochschule Bremerhaven became one of the first universities to develop a BSc graduate qualification in wind energy, and went on to offer an MSc masters degree in wind energy. Various training schemes and other initiatives were also put in place to ensure the workforce will be there to support the continued growth of the local industry.
Bremerhaven has embraced the wind energy industry and developed a harbor and industrial manufacturing area which can accommodate almost all contributors to the supply chain, while supporting the local population and economy through training and job creation.
Editor's note: This article was kindly provided by conference organisers, IQPC, who are responsible for organising a range of conferences in the renewables space, including Wind Turbine Supply Chain Management at the end of this month.
For additional information: